A Message from Sheriff John F. Price IV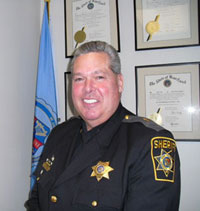 Welcome to the Kent County Sheriff's Office website. I am pleased to announce that our office has been accredited by the Commission on Accreditation for Law Enforcement Agencies, or CALEA since 2003. As the first accredited Sheriff's Office on Maryland's Eastern Shore, we are proud that CALEA has recognized our commitment to the highest standards of professional law enforcement. I hope you will take the time to explore our website and to give us feedback, not only on the information you find here, but on our services as well.
As head of Kent County's primary law enforcement agency, my job is to enforce the laws of the State of Maryland and to ensure that you are safe and secure in your homes, businesses, and in public places of Kent County. I can do that more effectively if I hear from you about your experiences with my Office and your concerns about public safety in our community. I invite you to complete the Community Survey so that we may benefit from your views.
Sincerely,
John F. Price IV
Sheriff of Kent County